XL Sport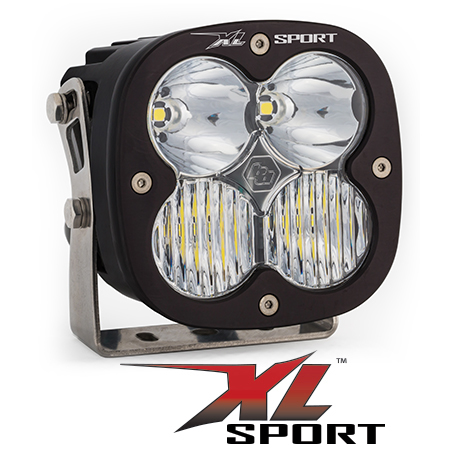 XL Sport LED Lights
Off-roaders on a tight budget can still experience top-of-the-line lighting performance thanks to the XL Sport series of LED auxiliary lights. Our "entry-level" XL automotive lights still outperform the top models offered by many of our competitors. With science-based lighting design, modern aesthetics, and a passion for adventure, we've been breaking new ground for over 25 years. Baja Designs introduced the XL Sport off-road light so those who need to stretch their dollars can do so without compromising on quality.
Powersports LED Lighting
This "slimmed-down" version of the XL Pro still packs a wallop where it matters most. XL Sport automotive lights use four Cree LEDs to beam out 3,150 lumens of daylight-quality light in a variety of beam patterns. The LED High-Speed Spotlight utilizes special reflectors to extend the light throw for long-distance visibility with the throttle on the floorboard. While the light output is lower than the XL Pro or XL80, it's still more than enough for many ATV, UTV and dirt bike enthusiasts who want to keep riding after sundown.
Our side-by-side LED lights are constructed using the same technology as the lights we make for super-duty trucks and agricultural equipment. They're waterproof, exceed mil-spec requirement and last nearly 50,000 hours before the bulbs need changing. By adding a Skene dimmer, you can activate the high/low feature, giving you more control over the output. Each of these lights is also available with a round bezel if you prefer this sleek style.
Premium Lights for Off-Roading
Our premium-quality lighting is trusted by professional Baja racers and everyone serious about adventure. Order directly from the Baja Designs online store or visit a local authorized dealer to see XL Sport lights in person. From there, use universal mounting systems along with rock guards, replacement lenses, and other accessories to create and maintain a bright spread that has a 30-day satisfaction guarantee.
Showing all 10 results