S2 Pro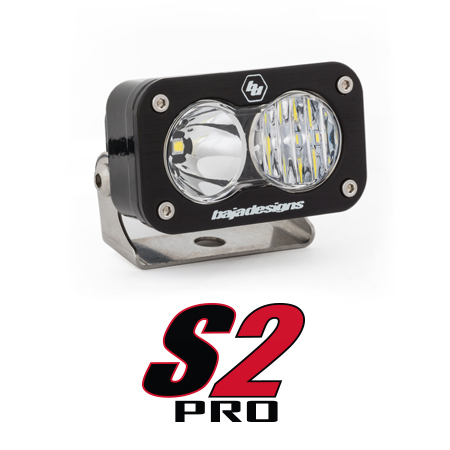 Small but powerful, the S2 Pro LED light is the perfect accompaniment for all of your adventures. The compact light offers an incredible 2,450 lumens of brilliance packed into a tiny 3" x 2" housing. Ounce for ounce, the S2 Pro is the brightest LED light on the market and the unique design of the light means it can be mounted where a larger, traditional light would never fit. On top of the exceptional brightness, the compact LED only draws 24 watts of power, so it won't drain your electrical system.
Compact Brilliance
The Baja Designs S2 Pro delivers exceptional brilliance in a compact body. The tiny light is designed to go where larger lights simply can't fit, but don't let the size fool you — this little light packs a serious punch. S2 Pro lights feature compact LED bulbs that deliver incredible brightness and reach, lighting the way for all of your nighttime adventures. Order a standard or flush-mount lamp with either black or white housing to suit your needs. Lights are available in white or amber colors and several styles for driving, cornering, and scene lighting.
Durable Design
A compact light is great, but you want a light that's also durable enough to stand up to whatever you can throw at it. The S2 Pro is the ultimate trail-blazing companion, designed with a lightweight aluminum body that's also weather-resistant for times when the elements just won't cooperate. The lamps feature replaceable polycarbonate lenses and optics as well as stainless steel brackets and hardware. The lights are waterproof, pressure washable, and IK10 compliant.
Trust your adventuring to S2 Pro lights from Baja Designs. Our heavy-duty lighting solutions come with an industry-first 30-day satisfaction guarantee as well as a limited lifetime warranty. Enjoy the ultimate in purchase protection when you shop for S2 Pro lights at Baja Designs
Showing all 11 results