RTL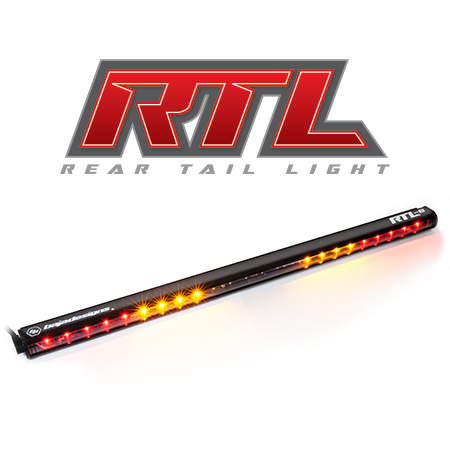 Baja Designs Rear LED Lights for Off-Roading
Rear-Facing LED Light Bars
The front of your vehicle isn't the only place where you need excellent visibility while off-roading. Baja Designs tail light bars extend the brightness of our regular light bars to the rear of trucks, Jeeps, UTVs, and more. We already use the world's leading scientifically proven lighting technology to help adventurers, racers and workers see the road or trail ahead. Now we also use this tech to create rear LED lights that help others see you. Just like our customers, Baja Designs is committed to performance and safety that also looks great.
Off-Road LED Tail Lights
The RTL series of rear LED light bars has many uses on a vehicle. These bars can function as off-road brake lights, running lights, cargo lights, or license plate lights. The original RTL light bar is a 30-inch long fixture with several practical variations:
The RTL-S has flashing amber turn signals for on-road driving.
The RTL-B has blue safety lights for slow-moving work vehicles.
The RTL-G has the green emergency lights common to California racing associations.
If you drive a smaller vehicle or space is limited, the RTL-M Baja Designs chase light is the right solution. This miniature 6-inch LED light bar has five red LEDs and two center white LEDs. Use them on motorcycles and ATVs as primary tail lights or strap the RTL-M to a Jeep as a Baja Designs 3rd brake light. It's available with or without a license plate illuminator.
Premium Rear Visibility
Every off-road light we manufacture contains Cree LEDs, some of the brightest and longest-lasting lights in the industry. Our fully waterproof housings, 100% copper-driven circuit boards, and replaceable optics produce a light that offers high performance in any environment. A limited lifetime warranty means you're protected if something goes wrong. Watch the videos below to learn more about our rear LED lights that lead the way in quality.
(RTL Patent D802,187)
Showing all 3 results
Filter by price
Product categories