OnX6 LED Light Bar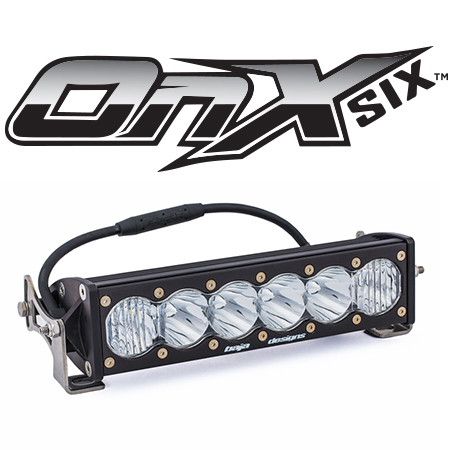 OnX6+ – Starting at 9,230 (low) or 12,450 (high) lumens for a 10″ light bar. Features Battery Management Technology (BMT)
OnX6 Dual Control –  Dual power cord and dual switch. Control the ends of your bar separately from the center sections, for the ultimate in versatility.
OnX6 Racer Edition – 6,450 lumens per 10″ section – Engineered for speeds over 110 mph. This bar will shine 40% farther than the standard OnX6 bar.
OnX6 Arc Series – All of the features of our straight OnX6 bars, but with a bend to match the lines of your vehicle.
The OnX6 LED light bar by Baja Designs is guaranteed durable for any off-road adventure. Compatible with most aftermarket mounting systems, the OnX6™ LED light bar adopts industry standard sizing and is available in 10″, 20″ 30″ 40″ and 50″ sizes. An industry first 30 Day Satisfaction Guarantee & Limited Lifetime Warranty is included for the ultimate in purchase protection.
Showing all 11 results
Filter by price
Product categories